The training is conducted mainly for the For the Next Generation Farmers who is the representatives of young members of farm families. Three batches of trainees (maximum 15 in each batch) completed training simultaneously according to the following illustration.
Item
1st
WK
2nd 
WK
3rd
WK
4th
WK
5th
WK
6th
WK
7th
WK
8th
WK
9th
WK
10th
WK
11th
WK
12th
WK
13th
WK
14th
Wk
Theory
B1,B2
B3,B4
-
B1,B2
B3,B4
-
B1,B2
B3,B4
-
B1,B2
B3,B4
-
B1,B2
B3,B4
Practical
-
B1,B2
B3,B4
-
B1,B2
B3,B4
-
B1,B2
B3,B4
-
B1,B2
B3,B4
-
-
Application
-
-
B1,B2
B3,B4
-
B1,B2
B3,B4
-
B1,B2
B3,B4
-
B1,B2
B3,B4
-
Abbreviation "B" = Blocks;
Total 85 trainees completed this three months training program, who were selected by the District Magistrates of following districts:
Uttar Dinajpur :Kaliaganj and Itahar Blocks
Nadia: Karimpur – I and Krishnagar – I blocks
Paschim Medinipur: Jamboni and Jhargram blocks
Pre-training interactive sessions were conducted in each of the blocks in presence of the Training Provider, who was selected through invitation of Expression of Interest.
Emphasis were given on Market-led production, post-harvest management, value addition and direct marketing of produces aiming at achieving maximum producers share in consumers' price during the Theory portion of the training program. The trainees developed their block resource maps, based on which district wise need based classes has been organized.
Additionally, during their Practical activities, they saw different market linkage activities by visiting and interacting with traders of Koley Market, MadanpurHaat, Sheorafully Veg. Haat, Naihati Fish Market, Ranaghat Nursery markets, NakashiparaFPC and Rabbit Farm – Chinshura, Different Fruit and Vegetable orchards, fish, Dairy and Poultry farms, Flower Nurseries. They also visited:
Central Institute of Freshwater Aquaculture, Kalyani
Bidhan Ch. KrishiVishwavidwalaya, Kalyani
W.B University of Animal and Fisheries Science, Kalyani
National Dairy Research Institute, ICAR, Kalyani
Sheep and Goat Breeding Farm, Govt. of W.B, Kalyani
Gotra Samabay Samiti, Gotra
Ushagram Bio-farm, Birnagar
Kriskah Bazars
Potato and Multipurpose Cold Storages
Mushroom Farm at Khagarchar, Hanskhali
They also interacted with Ex-trainees who are now growing entrepreneurs.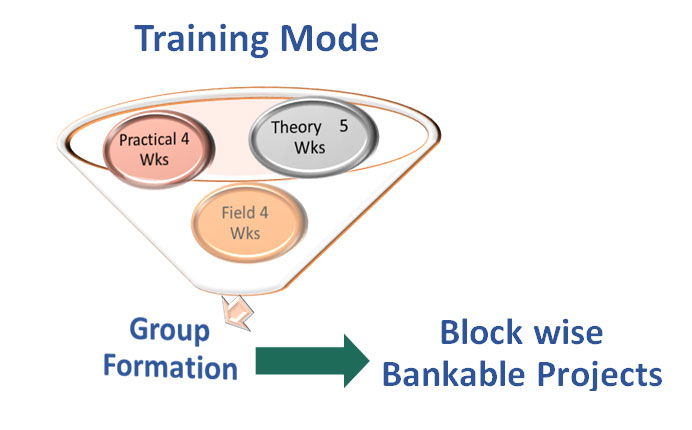 6 new SHGs have been formed with the trainees representing Young Members of Farm Families, selected from 6 Blocks of 3 Districts at the end of the training.
6 Bank Linked Business Development Projects have been developed and submitted by the Trainees of 6 newly formed SHGs as a part of their Post Training Activities. All the groups have been provided with one time assistance of Rs. 2.00 Lakh as a front-end subsidy upon submission of their bank linked projects. The details of the groups and their bank linked projects are as follows with their link banks:
District
Block
Name
Conducted on
Project Name
Bank Name
OTA released
Uttar Dinajpur
Itahar
Pragati KrishakSahayak Dal
Nov – 2016 to Mar – 2017
Raring of Broiler Rabbit and marketing
Bangiya Gramin Vikash Bank
2 Lakh
Kaliaganj
UttarbangaKrishak Disha Kendra
Raring of Broiler Rabbit and marketing and Procurement & Marketing of Bay-leaf
Allahabad Bank
2 Lakh
Midnapur (W)
Jamboni
MaaKanakdurgaSwaNirbharGosthi
Raring of Broiler Chicken
Panjab National Bank
2 Lakh
Jhargram
MaaSabitriYubaSwaNirbharGosthi
Procurement and Selling of vegetable Items
United Bank of India
2 Lakh
Nadia
Karimpur 1
Netaji Subhas SwanirvarGosthi
Raring of Broiler Rabbit and marketing
Allahabad Bank
2 Lakh
Krishnanagar 1
JagoranSwa-NirvarGosthi
Procurement and selling of Flower Items
United Bank of India
2 Lakh
TOTAL
12.00 Lakh